Paradise Islands: Choosing The Perfect Hawaiian Island For You
Hawaii is one of the 50 states in the US. This particular state is in the western part of the United States and is located in the Pacific Ocean. There are approximately around 137 islands that comprise Hawaii. This number includes the eight major islands (one being uninhabited, while the other discourages tourists), the minor islands, and the islets. Each of these islands has its unique charm and vibe. Given this, no wonder Hawaii has been a consistent go-to destination for travelers.
The Aloha State is a dream destination for many people, and it is entirely understandable. Who would not want to see the majestic islands of this state? You can either go island hopping or stay on just one island. Still, one thing's guaranteed– Hawaii can offer you a wide variety of delectable dishes, exciting adventures, and experiences you would never forget.
Although visiting Hawaii has been unattainable for the past year due to the pandemic, this year has been way different. With the travel restrictions across the globe slowly being lifted, tourists can now freely travel once more around the island. There are still travel policies and health protocols you must adhere to, but you can now enjoy the top activities to do in Hawaii.
With all that being said, choosing the best Hawaiian island to visit can be a little overwhelming and confusing. But you do not have to worry about it anymore, for here is a simple guide on how you can choose the perfect Hawaiian island for your next vacation.
Hawaii (The Big Island)

If you are in love with adventure, the Big Island is definitely for you. As its nickname suggests, Hawaii or the Big Island is the largest in the Hawaiian archipelago. Also, it is geologically the youngest island out of the eight major islands. Hawaii is best known for Kilauea Volcano or the Earth's most active volcano. With the emerald valleys and icy waterfall pools near the volcano, the Kilauea Volcano draws a dreamscape for trail junkies.
The western side of the island is filled with numerous large resorts; this is why most tourists stick to this side. Luxury hotels such as the Four Seasons Hualalai, Mauna Lani Bay Resort, and the Mauna Kea Beach Hotel are located in this area.
Aside from the adventure and luxurious properties, you can also experience history on the Big Island. It is believed that the first Polynesians likely landed at Ka Lae (Southern Point). Also, Kamehameha the Great, the unifier of the Hawaiian islands, was born in Kohala and died in Kailua-Kona. Moreover, Milolii on the Kona Coast is allegedly the last Hawaiian fishing village. Lastly, the ever-famous Hula is deeply rooted here.
You may witness various sea creatures, such as dolphins, sea turtles, and other brightly colored fish, when it comes to wildlife. If you also happen to visit the island during winter, you may chance upon humpback whales.
Maui

Maui is the second most visited and second-largest island in the Hawaiian archipelago. This island is home to the Road to Hana, which is Hawaii's most famous road and most contested tourist attraction. Maui is also where you can find the popular Haleakala National Park. Here, hikers are welcome to hike and witness the gigantic Haleakala Crater, which is one of the park's most prominent features.
Many travelers have often regarded Maui to provide the best of both worlds because this island can offer you infrastructures and activities without the hectic experience you get in the city. Maui is also a place where you can see beaches everywhere, making kiteboarding, snorkeling, and surfing possible.
Oahu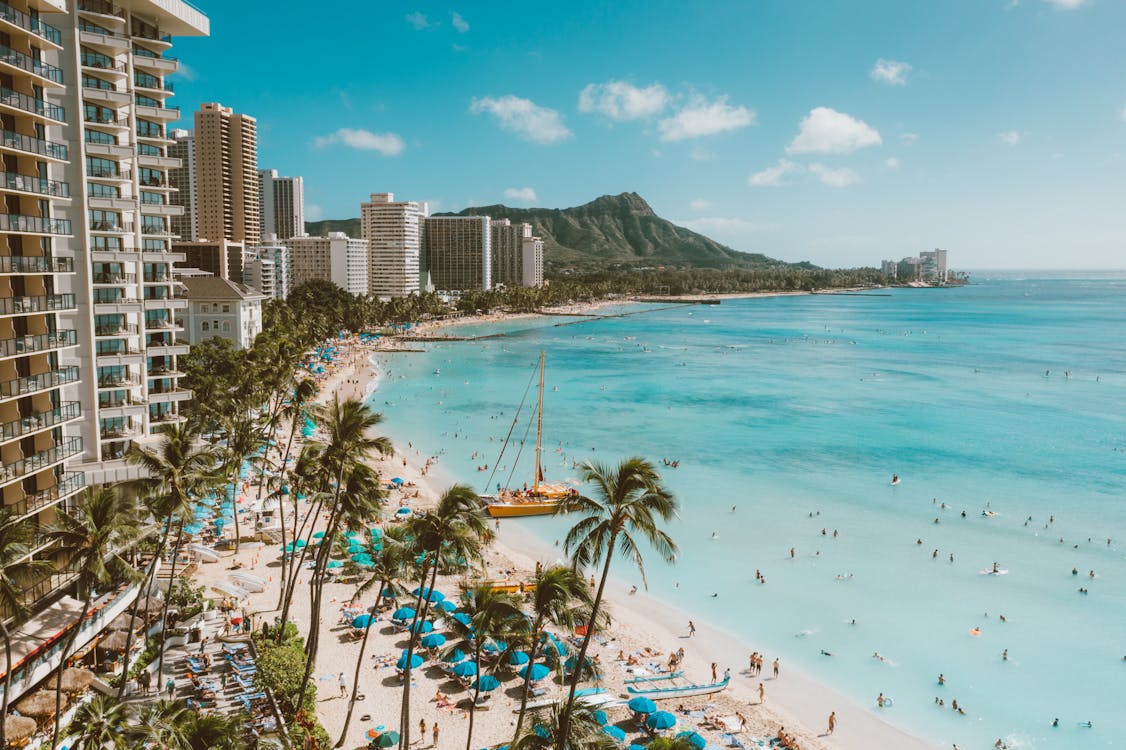 Oahu may not be the biggest island there is, but it is considered as one. This island is not as big as The Big Island or Maui, but it holds the largest population of all islands in Hawaii. Oahu is known to be the most bustling and urban island in Hawaii. It is also considered the state's central hub, which makes sense as its nickname is "The Gathering Place." This island is the home of Hawaii's largest city and commercial center, Honolulu, known for its epic rush comparable to Los Angeles's.
Despite the bustling life on the island, you can still have fun by the beach. Within the city limit, you can visit Waikiki beach. Here, you can shop, dine, and enjoy the luxurious amenities of the huge high-rises resorts.
There are many Oahu excursions you can enjoy while you are on the island. These include beach hopping, tasting different kinds of food via numerous food trucks, surfing, and snorkeling.
Kauai
If you are in search of a romantic vacation with you and your partner, Kauai is the perfect island for you. This island is also best known for adventure junkies and relaxation seekers. Kauai is hailed as "The Garden Isle" due to its lush greenery surroundings. However, if you plan to visit Kauai, make sure you prepare for a longer trip as rainfall is more frequent on this island.
If you want to enjoy a sunny vacation, you can stay at Po'ipu. This is known to be the island's consistent sunny area. Po'ipu is regarded as a tropical version of a sleepaway camp. Canyons and cliffs are also prominent in Kauai. You can bask in the beautiful view of the Waimea Canyon, the Grand Canyon of the Pacific.
Molokai

Are you looking for an authentic Hawaiian travel experience? If so, Molokai is the perfect island for you. More than fifty percent of Molokai's population has indigenous heritage. Locals give importance to the preservation of land and culture more than anything else. Due to its laid-back atmosphere, Molokai is known as "The Friendly Isle."
Lanai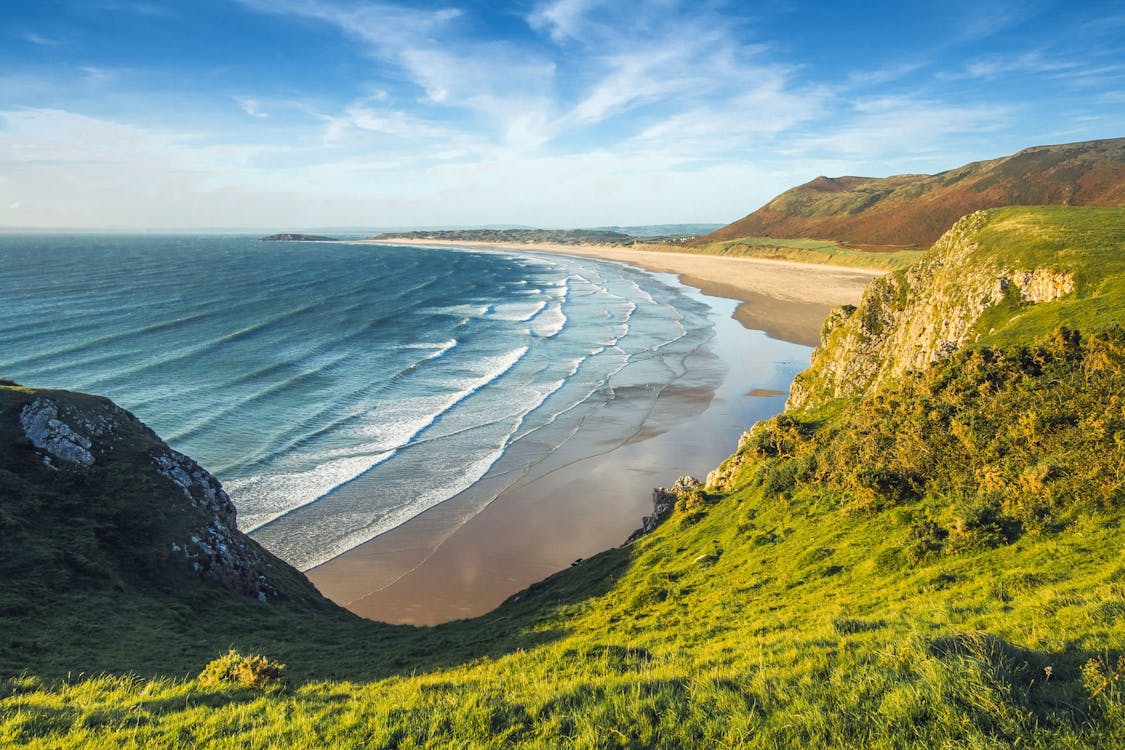 The last island on this list is Lanai or "The Pineapple Island." Lanai is best known for its remoteness. Here, you can experience serenity while you are on vacation. For much of the twentieth century, Lanai was considered the world's largest pineapple plantation, which Dole owned. By 1980, Dole's subsidiary, Castle & Cook, decided to transform the island into pineapples for tourism. But despite this, Lanai City still retained its 1920 plantation architecture.
Hulupo'e Beach can also be found in Lanai. It is a long crescent of sand on a bay. You can also enjoy snorkeling and unwinding, for this is a bit uncrowded compared to the other beaches from the larger islands.
These are the six major islands of Hawaii. Niihau or "The Forbidden Island" and Kahoolawe or "The Target Isle" are also major islands. However, unlike the six islands listed above, these two islands are not accessible for tourists. For Niihau, you would either need a doctor's note or a direct invitation from a Niihau citizen to be able to visit the island. Meanwhile, after World War II, Kahoolawe was once a training ground and bombing range for the US military. This is why it is prohibited from tourists due to the continued danger of unexploded ordnance.
Given all the beauty and exciting adventures each island has to offer, choosing the perfect Hawaiian island for your vacation might be a tough decision to make. But no matter how difficult it is to choose, you will certainly have fun on any of these islands, especially if you hire a local tour operator like Go Hawaii Tours.
Go Hawaii is a local tour operator dedicated to embodying the Aloha spirit everywhere we go. Let us help you create memorable experiences as you go around Hawaii. If you want to know more about us and our list of tours, you may check out our website at www.gohawaiitours.com.